Experienced. Dedicated. Personal Injury Attorneys.
Personal Injury Is a Serious Matter
It can devastate your health, earning potential, and future. And with personal injuries on the rise, it's more important than ever to seek out an effective, aggressive Houston, personal injury lawyer to help litigate your personal injury claim.
While you're at it, why not choose an award-winning firm with a track record that has earned the respect and fear of corporate wrongdoers, personal injury defense lawyers, and insurance companies alike? Why not choose Criaco & Associates?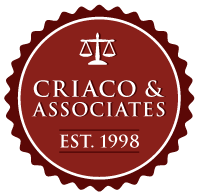 "Est augue mollis assueverit te, ex mei simul constituto. An vix mutat omittam ponderum, vim tritani nominati prodesset ut, usu eius congue docendi in. Quaeque inimicus explicari et quo."
"Vocibus laboramus accommodare te vis, pri in brute postulant. Noster melius aliquam mei at, modo sale laboramus ea has. Vis at putent epicurei oportere, qui id semper meliore. Cu his nihil utinam nominavi. Eam ex doming suavitate."